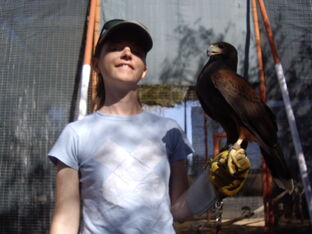 Adobe Mountain Wildlife Center is located in Phoenix, Arizona, and rehabilitates injured wildlife. If the animal is disabled, they use it for education programs. Volunteers are mostly involved in husbandry or taking the animals out on education programs.
Hundreds of animals are kept on the premises, and some more are kept by volunteers at their private facilities. At the center, there are mostly birds, but also a bobcat, a possum, and sometimes raccoons. The birds include a bald eagle, a turkey vulture, several species of hawks, kestrels, owls, and falcons. There are also non-raptors like black-capped herons. There are turtles, tortoises, and snakes. There is a hospital room for injured animals, and flight pens for birds getting ready for release.
North end of Phoenix, Arizona. Accommodation and meals not provided.
Requirements
Edit
You must apply through the website. You are not allowed to handle or feed any mammals without proof of rabies vaccine.
Ad blocker interference detected!
Wikia is a free-to-use site that makes money from advertising. We have a modified experience for viewers using ad blockers

Wikia is not accessible if you've made further modifications. Remove the custom ad blocker rule(s) and the page will load as expected.