Information taken from the following website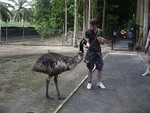 http://www.realgap.com/Australia-Rainforest-Wildlife-Volunteers
Trip code: OZRW
Edit
Location:
Edit
The wildlife sanctuary is situated in Port Douglas, just an hour north of Cairns.
Duration & Price:
Edit
from $1539. Full price listAustralia Rainforest Wildlife Volunteers - 4 weeks Dorm Accommodation $1,539
Australia Rainforest Wildlife Volunteers - 4 weeks Twin* Accommodation $2,929
Australia Rainforest Wildlife Volunteers - 6 weeks Dorm Accommodation $2,129
Australia Rainforest Wildlife Volunteers - 6 weeks Twin* Accommodation $4,159
*Price based on two people booking together
$250 Balance to be paid 12 weeks before departure
Accommodation:
Edit
included (whilst at sanctuary)
Breakfast and lunch is included on volunteer days
The project starts on the first Monday of each month.
Information Pack:
Edit
Australia Rainforest Wildlife Volunteers Pack---- As a volunteer at the sanctuary you will be working with one of the wildlife keepers to assist in caring for sick, injured and orphaned wildlife. This will give you a great opportunity to have a real hands-on experience behind the scenes with some of Australia's amazing animals. You will also get the chance to get involved in the front of house presentations that are aimed to educate the public about the stunning wildlife, environment and conservation issues that have arisen in recent years!

About the Sanctuary
Edit
A leader in its field of wildlife immersion exhibits, this award-winning Advanced Eco-accredited park provides visitors with a chance to observe up close a diverse range of wildlife and flora. The sanctuary uses funds raised from donations and park entries to operate their Wildlife Rescue programme, which includes a dedicated wildlife care-centre. Each species is given specific care to suit its particular needs and released back to the wild if appropriate. Some animals stay for a day, however the ones with more severe injuries can stay for many months before being released. Animals that have incapacitating injuries stay on a permanent basis.
Having always been committed to displaying the unique wildlife of the Wet Tropics World Heritage Area, the sanctuary is one of only two places in the world that you will be able to see the Lumholtz's Tree Kangaroo a rare species of tree dwelling kangaroo found in the tropical north of Queensland. The sanctuary successfully bred its male and female tree kangaroo in 2006.
This sanctuary is also home to the only breeding pair of black-necked storks in captivity in the world. Commonly known as the Jabiru, this breeding pair made history in 2003 with a world first birth in captivity.
The Volunteer Activities
Edit
There are three separate areas in the sanctuary, each replicating 3 different environments: rainforest, wetlands and grasslands. In each of these areas reside wildlife and flora that is endemic to the natural environment that it is replicating.
The work at the sanctuary is extremely hands-on, with a variety of activities that you can get involved in. These may include;
Animal handling opportunities
Caring for sick, injured and orphaned animals
Food preparation
Cleaning and maintenance of animal enclosures
Koala leaf collection and distribution
Assist with record keeping duties under supervision
Monitoring health status and behaviour of animals
Plant identification and collection
Upkeep of displays and exhibits
Park maintenance
The Programme Cost Includes
Edit
Transfer from the airport to the accommodation on your arrival day.
Transport to and from your accommodation and wildlife sanctuary.
Breakfast and Lunch on your volunteer days
Accommodation for the duration of your programme
Comprehensive orientation day
Information pack
2 uniform shirts
The Programme Cost Excludes
Edit
All flights
Personal travel insurance
Visas
All items of a personal nature
Extra activities, excursions and transport during free time
Dinner
Prices and Durations
Edit
Australia Rainforest Wildlife Volunteers - 4 weeks Dorm Accommodation $1,539
Australia Rainforest Wildlife Volunteers - 4 weeks Twin* Accommodation $2,929
Australia Rainforest Wildlife Volunteers - 6 weeks Dorm Accommodation $2,129
Australia Rainforest Wildlife Volunteers - 6 weeks Twin* Accommodation $4,159
*Price based on two people booking together