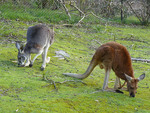 This information is taken from the following website
http://www.realgap.co.uk/Australia-Wildlife-Sanctuary-Volunteers-Adelaide
Tripcode:
Edit
OZWS
Overview:
Edit
This project will give you a unique opportunity to work with Australia's native mammals and birds and to experience the Australian bush. The wildlife sanctuary, located 30 minutes from Adelaide, allows the animals to roam free in a protected habitat.
Location:
Edit
Adelaide Hills about 30 minutes from Adelaide city
Duration & Price:
Edit
from £799. Full price listAustralia Wildlife Sanctuary - Adelaide - 2 weeks £799
Australia Wildlife Sanctuary - Adelaide - 3 weeks £1,149
Australia Wildlife Sanctuary - Adelaide - 4 weeks £1,449
Australia Wildlife Sanctuary - Adelaide - 6 weeks £2,149
Australia Wildlife Sanctuary - Adelaide - 8 weeks £2,799
£195 (balance due 12 wks before departure)
Accommodation:
Edit
included (whilst at sanctuary)
included (whilst at sanctuary)
The first Thursday of each month.
Info Pack:
Edit
Australia Wildlife Sanctuary Volunteers Adelaide Pack[1]
Volunteering at a wildlife sanctuary in Australia on your gap year will provide you with the unique opportunity to learn all about the fascinating Australian wildlife. The focus at the sanctuary is wildlife and habitat conservation and by volunteering through Real Gap, you will be working on on-going, essential projects.
Your work will have long-terms benefits to the wildlife, habitats and environment.
To get you started on your Australia gap trip, you will receive an arrival package in Adelaide. This includes a transfer from the airport to a city-based hostel, a city sights day tour and two nights dorm accommodation. On the Saturday, you will then catch a bus to nearby Stirling, where you will be met and taken to the wildlife sanctuary.
Volunteer Role
Edit
During the week your role will be varied. Tasks that you may assist with can include:
Sanctuary Maintenance
Grounds and weed control
Landscaping i.e. paths, fences, waterways restoration
Mulching and pruning
Planting trees
Fence walk
Boardwalk
Splitting timber
Maintenance i.e. school, cabin area and car park
Track and trail maintenance
Feral- proof fence maintenance
Animal handling and feeding
Assist with Animal Show
Handling of animal species i.e. reptiles, including snakes
Assist in animal trapping
Animal care and feeding
Participate in Guided Night Walks, including observations of Platypus
Monitor feed stations
You will have weekends off with the opportunity to travel back into Adelaide for some relaxation!
What's Included in the Programme
Edit
Airport Transfer
Two nights dorm accommodation in Adelaide
Volunteer project
Food and accommodation when volunteering
Certificate of achievement on completion of stay
What's Not Included in the Programme
Edit
All flights
Transport from Adelaide to Stirling
Personal travel insurance
Visas
All items of a personal nature
Extra activities, excursions and transport during free time
Prices and Durations
Edit
Australia Wildlife Sanctuary - Adelaide - 2 weeks £799
Australia Wildlife Sanctuary - Adelaide - 3 weeks £1,149
Australia Wildlife Sanctuary - Adelaide - 4 weeks £1,449
Australia Wildlife Sanctuary - Adelaide - 6 weeks £2,149
Australia Wildlife Sanctuary - Adelaide - 8 weeks £2,799