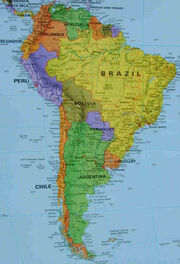 Programs in South America include:

Andean Bear Conservation Project helps conserve bears in Ecuador
Amazon Community Animal Rescue accepts veterinary and non-veterinary volunteers.
The Ara Project has amazing opportunities working on captive breeding and rehabilitation projects in Costa Rica at very very minimal cost.
Bridge Volunteers has a number of projects in Africa and South America
Durrell Wildlife Conservation Trust has project in the Caribbean involving endangered frogs.
Ecovolunteer Nature Travel offers ecotourist trips to Brazil and Colombia.
Involvement volunteers has a number of projects including Guatemala, Panama, Bolivia and Peru
i to i Travel has a number of projects in South America
Neotropical Primate Conservation in Peru.
Volunteer Latin America has a number of projects you can access after ordering their volunteer guide on line. Many projects involve animals, but there are many other community based projects too.
Wildlife Orphanage and Rehabilitation Center is in Trinidad and Tobago.
Para la Tierra has a number of conservation projects in Paraguay