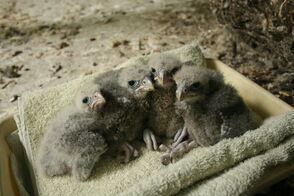 WIngspan Birds of Prey Trust is the only raptor center in Rotorua, New Zealand. They currently employ three of the only four falconers in the country. They participate in projects with Raptor Association of New Zealand, Massey University, and Falcons for Grapes. They rehabilitate, breed, and release New Zealand's only endemic falcon.
New Zealand falcon, Australasian harriers, a barn owl, and moreporks.
Volunteering
Edit
Volunteers help out with the day-to-day tasks of husbandry. They may also participate in wild bird counts at the Kaingaroa Timberlands if they are present at the right time of year. Accommodation is available next door at the Fish and Game fish hatchery, but the volunteer must pay for it. Food is not included. You must apply through their website.
Ad blocker interference detected!
Wikia is a free-to-use site that makes money from advertising. We have a modified experience for viewers using ad blockers

Wikia is not accessible if you've made further modifications. Remove the custom ad blocker rule(s) and the page will load as expected.